About
FORMER KAICHI SCHOOL(National Treasure)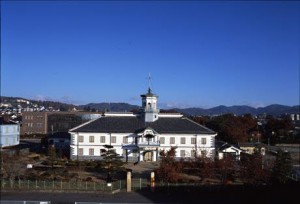 The value of the former Kaichi School Building as a National Treasure
 The masterpiece of Giyofu Architecture "Pseudo-Western-Style-Architecture" that Shows Civilization
 Once the era changed from Edo to Meiji, Japan aimed to be westernized so even buildings changed to Western style. Those Japanese carpenters didn't have any experience of building Western style architectures, so they used western architectures in Tokyo, Yokohama, Osaka, and Kobe as their references. They didn't have enough materials and techniques of Western style architectures; therefore they used traditional Japanese techniques and made it look like Western style. That's why there were many buildings that were mixed of Western and Japanese style all over Japan. These kinds of buildings are called Giyofu architecture, and these can tell how Japanese people adapted to Western architecture.
The former Kaichi School building has the feature of pseudo-Western-style-architecture. The original design is highly appreciated because it is very different from others. In front, there is a sign with Western angels and a traditional Japanese dragon sculpture. Some people say that this very courageous design can only be seen in this school.
The School Building that Symbolizes the Dawn of Modern Education in Japan
 Academic system was organized in 1872 in Japan. At that time 70% of school buildings were old empty houses and temples. That's why there were many inconvenient points.
In 1876, the former Kaichi School was built. It was a very functional school building at that time. It increased the number of classrooms so that many children can learn, and as much as possible, classrooms were located south side to get more sunlight.
The former Kaichi School building is extremely complete as a school building, and it is valued as the dawn of Japanese modern educational symbols.
These points were highly evaluated; so the former Kaichi School was able to be the first modern school building national treasure in Japan.
The designation of the school building as a national treasure made Matsumoto a city that lines up two national treasure buildings such as Matsumoto castle tower, and the former Kaichi School. Matsumoto is the only place where it overlooks both national treasures – a Japanese castle and a school – because they are located close to each other. If you will visit Matsumoto, please visit both places and enjoy the co-starring of early modern and modern national treasure buildings.
The Best Educational Materials in Japan
Many educational materials that were used in Kaichi elementary school are preserved in the former Kaichi School. There are about 110,000 educational materials exhibited inside of the building. It is highly regarded as the best educational materials that show the history of the practice of modern education in Japan.